As any pre-law student knows, the Law School Admission Test, or LSAT, is critical for admission into schools of law. There are many prep courses for the exam, but two of the most popular are Blueprint and Kaplan.
As someone who has helped hundreds of students achieve their career goals, I took both course options so that I could provide an objective analysis of Blueprint vs Kaplan LSAT. Here is my review.
What Is Blueprint LSAT Prep?
Blueprint LSAT Prep is an LSAT course created by instructors from top law schools [1]. They founded the company in 2005 with the goal of helping students achieve their best possible score on the LSAT.
The Blueprint program includes three different course options that are each designed for a specific type of learner:
Self-Paced
Live Online
Tutoring
The Blueprint Self-Paced course is an internet LSAT prep course that allows students to learn at their own pace and on their own schedule. This is an online anytime course that provides on-demand lessons throughout the access period.
This Blueprint program is made of 68+ instructional modules that take the material and break it down into manageable pieces. In addition, the study materials include over 9,000 LSAT practices and access to live review sessions and proctored practice exams.
The Blueprint LSAT Live Online course is a virtual, in-person LSAT prep course that meets for two months in 15 sessions delivered by two instructors. Additionally, the student has access to over 100 hours of in-person Office Hours with teachers.
The web-based course is designed to help students master the material and covers all aspects of the LSAT, from logic puzzles to reading comprehension. In addition, the program's extra resources include access to all of the Blueprint's internet resources, video lessons, and study materials from the online anytime course.
They designed Blueprint Tutoring for students who want one-on-one help from an expert LSAT tutor. Private tutoring plans are customized to each student's needs and can be purchased in 16, 24, or 40-hour increments. Blueprint tutoring plans also come with full access to the Self-Paced course - its video lessons, study material, and full-length practice tests.
Highlights of the Blueprint LSAT Prep Course
The Blueprint test prep course has a lot to offer students who are looking to improve their LSAT scores. Here are some of the highlights of the program:
1. Instructors
The educators at Blueprint have scored in the 99th percentile on the LSAT - 170 points or higher. But this is not what makes them so unique. Blueprint only accepts 5% of their instructor applicants because they want excellent teachers in addition to excellent test-takers.
Blueprint takes their educator staff and sends them through 188 hours of training in the Blueprint system. They teach the instructors not only to deconstruct the LSAT into its simplest parts but also to add their own personalities and stories to make the course engaging.
"From instructor training improv to gamified online resources with social features, Blueprint courses work because students who take them have fun learning."

- Blueprint Test Preparation
I think that one of their best decisions is to have all their live classes taught by a pair of LSAT educators who provide different perspectives and explanations for the material. While one was actively teaching, the other Blueprint teacher provided us with feedback via the web-based chat system.
2. Engagement
The Blueprint LSAT prep course is designed to keep students engaged in the material. In fact, Blueprint believes that its students will learn more if they have fun, so it has built a challenging and entertaining course.
Blueprint has created its test prep video lessons in a way that is visually stimulating and easy to follow.
The online course videos are also not simply a voice-over given over PowerPoint slides. Instead, they are movie-quality, funny, and memorable, with illustrations and animations.
I appreciate that the Blueprint video lessons are all mobile-friendly. They were as simple to control as any streaming service and came through just fine, even when I was on weak Wi-Fi.
3. Study Planner
One of the best features Blueprint offers is the ability to create a personalized study plan.
The study planner does an analysis of the time until your LSAT exam day and then tells you what you need to do each day to be prepared.
The study planner keeps track of your progress, tells you when you're ahead or behind schedule with your prep materials and video lessons, and syncs directly with your smartphone.
I like that the study plan is entirely flexible. When I had a schedule change, I could move the study sessions around without any problem, simply by dragging and dropping the lessons into their new time.
Blueprint LSAT Shortfalls
Of course, no LSAT prep course is perfect, and Blueprint is no exception.
For example, Blueprint offers a lot of value, but it does cost more than Kaplan and many other LSAT prep courses.
While the quality of Blueprint's instructors is excellent, the number of educators is limited. This means its class sizes are larger than Kaplan's small groups, and it does not offer a live classroom option.
Pros
Top-notch teaching staff who answer questions in real-time
Tons of practice questions
Highly engaging video lessons
Personalized study planner
Cons
No in-person classroom instruction option like Kaplan
My Rating
Price: 4/5
Score Improvement Rating: 4.5/5
Practice Materials: 5/5
Enjoyability: 5/5
Blueprint Pricing
LSAT Prep from Blueprint offers a variety of pricing for each of its course options.
The Self-Paced review course is available as a monthly subscription for $299 per month. You can get discounts if you pay for multiple months at a time. These programs include:
3-Month plan - $799
6-Month plan - $1,199
12-Month plan - $1,599
The Blueprint LSAT Live Online course only has a single plan. It provides five months of online access for $1,199.
The tutoring plans, being the most personalized, come in multiple options. However, at its most simple, the hourly rate for private tutoring is $225.
That said, you can order a wide range of tutoring options. At one end of the price spectrum, you will pay $2,209 for 16 hours of the core tutoring package. On the other side, 40 hours of premium tutoring lessons with an experienced 175+ tutor is $8,499.
What Is Kaplan LSAT Prep?
Kaplan LSAT Prep is one of the biggest names in test prep and test-taking strategies with over 80 years of experience, offering a comprehensive approach to LSAT exam prep, including web-based programs, in-person course options, and private tutoring [2].
When it comes to LSAT prep, Kaplan offers five course options:
On-Demand
Live Online
In-person Small Class
Bootcamp
Tutoring + Live Online
The Kaplan On-Demand LSAT prep course provides students with over 180 hours of prep materials in a mix of video lessons and live classes. The program also includes 300 customizable practice quizzes. This online anytime course has study material available at the student's convenience.
The Kaplan Live Online program gives you everything in the On-Demand course (including the video lessons), but with the extra resources of 32 hours of live web-based classroom sessions. One teacher provides the instruction on camera, while a supplementary team of Kaplan LSAT instructors answers student questions through private chat.
The Kaplan In-person Small Class course is offered only in specific large-market locations and includes 32 hours of in-person instruction. They limit the cohort size to 15 students, which allows for more personalized attention from the teacher. For those who do not live in a big city, Kaplan offers a similar internet-based Small Class program.
Kaplan Bootcamp is a 4-week intensive course that includes over 140 hours of instruction. This is a full-time program, and they expect students to commit to 7 hours per day every weekday. They hold the course on the web and it comes with an additional 8 hours of individual tutoring.
Kaplan also offers individual tutoring packages in conjunction with its Live Online course for the full access period. The tutoring comes in standard or premium course options, with premium tutoring provided by instructors with 10+ years of experience.
Highlights of the Kaplan LSAT Prep Course
1. Kaplan Live Classes
Although we have all gotten used to virtual interactions during COVID, there is still something to be said for the personal connection of in-person classroom instruction. Video lessons can certainly be an effective way to prepare for the LSAT, but a live classroom experience is a great study program too.
Kaplan's instructors have the opportunity to really get to know the student, their strengths and weaknesses, and areas for improvement.
I very much appreciated the discussions I had, not only with the teacher, but also with fellow students who were at my same level. That real-time interaction with other people going through the same process as I was invaluable.
2. Practice Questions
The Kaplan LSAT course offers a wide range of practice questions in their online course and printed test prep study materials. Regular exposure and use of these actual LSAT questions will help solidify the concepts taught by the Kaplan course.
I like that Kaplan provided access to every exam question ever officially released, but also 2,500 additional LSAT questions that their staff had curated by difficulty and subject. This made it simple to find questions focused on the areas where I needed the most work.
3. Books
The Kaplan course also provides printed test prep books as a part of your study materials. The main benefit here is that you can take them with you and study offline, which can be helpful if you have a long commute or prefer not to stare at a screen for extended periods of time.
The Logic Games book was the most helpful, as it provided clear explanations and diagrams for each question type. I also appreciated the extensive strategy guide for how to answer every kind of question.
Kaplan LSAT Shortfalls
Every exam prep program has its strengths and weaknesses, and the one Kaplan offers is no different.
First, because they are such a large company, I felt the plan for the Kaplan On-Demand course was a little cookie-cutter. It would have been nice to have more customization options, such as the ability to focus on specific question types or difficulty levels.
Second, though the video lessons are comprehensive and well-made, they were not always engrossing. I often did not retain as much information as I would have liked.
Last, to get all the practice tests available, you have to purchase a separate subscription. Kaplan has marked the courses down by an equivalent amount to make up for this $99 difference, but it is a bit of an extra hassle to get the practice exams.
Pros
Multiple learning options for students
Live classrooms with a real teacher and student interactions
Extensive practice question bank
Hard copy books to augment your instruction
Cons
You have to purchase practice tests through a separate subscription
My Rating
Price: 4.2/5
Score Improvement Rating: 4.5/5
Practice Materials: 5/5
Enjoyability: 5/5
Kaplan Pricing
Kaplan offers a variety of pricing options for its LSAT course, depending on the level of instruction and support you are looking for.
The On-Demand course costs $700 for a four-month access period to its video content. Access to 60+ practice tests requires an additional $99/mo. This add-on for practice tests runs throughout the Kaplan programs.
Kaplan's Live Online program is $1,200, except if you sign up in the same month you want to start your studies. In that case, it costs $1,300.
The Small Classes LSAT prep runs $1,400 for the entire session. This price is the same no matter whether you are taking the live version or the online course.
The Kaplan's Bootcamp is $3,900 for the entire 4-week course of study.
Finally, the Tutoring + Live Online starts at $2,300 for 10 hours of tutored lessons. At the upper end, premium tutoring for 40 hours is $7,999.
FAQs
What Is the 99TH Percentile on the Test?
The 99th percentile on the test falls between 173 and 175 points although it changes slightly every year. The highest score possible is 180, and the average LSAT score is around 150-152.
Do the Companies Provide Guarantees?
Both companies provide higher score guarantees. This money-back guarantee means that if you do not get a better mark, students can either get a refund or review the program for free.
Blueprint vs Kaplan LSAT: Who Is the Winner?
Both Blueprint and Kaplan offer many LSAT test prep study materials to help you get ready for the LSAT. All things considered, I recommend Kaplan over Blueprint. While both courses have pros and cons, I found that Kaplan offered more engaging instruction, better online materials, and more available practice problems.
I am not alone in this opinion. Here are some internet reviews I found:
"My daughter is a rising junior in college and she plans on going to law school. Her internship fell through this summer and she decided to use some of her extra time to learn a little about the LSAT. She purchased 2 books and feels like this one gives her a good handle on the exam."

- Emily from Los Angeles
"When you purchase this product, you also get access to online resources and live virtual tutoring sessions which are a GREAT help! The online instructors are superb and the book does a wonderful job of breaking down some complex areas."

- Juan Trevino, Law Student
For more information about Kaplan, click here.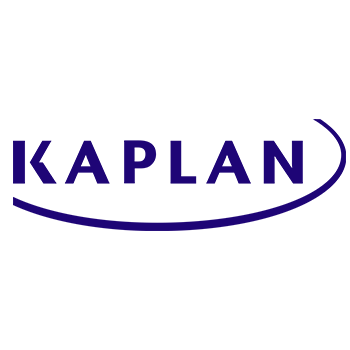 We Recommend This Product
Kaplan LSAT
Multiple learning options for students
Live classrooms with a real teacher and student interactions
Extensive practice question bank
Hard copy books to augment your instruction
Get the BEST PRICE until the end of October
Click For Best Price