GRE preparation is crucial for getting a good score on the exam. But, with so many test prep companies out there, how to choose the best one for you?
Veritas is a test prep company that's been getting a lot of buzz recently, so I decided to do my own research.
I took the Veritas Prep GRE course myself to bring you a detailed review of this GRE prep. Let's start.
What is Veritas Prep?
Veritas Prep company was founded in 2002 at Yale University by two students [1].
Veritas offers SAT, GRE, GMAT, and ACT prep courses.
Currently, they have 200 tutors, all of which scored in the 99th percentile themselves, and over 300,000 satisfied students.
The company offers several tutoring options.
Students can choose between live-online, on-demand, and private tutoring classes.
The company offers free College Admissions Live Online Courses for the ACT and SAT, but Veritas Prep GMAT and GRE admissions consulting can only be taken for a fee.
Veritas Prep GRE Highlights
These are the most important benefits I found Veritas Prep GRE to have.
1. Veritas Prep Instructors
The company says they have 2 GRE prep instructors, which are the best in the world.
I don't know if I would go as far as to say they're the best in the world, but I did find them more than competent.
The tutors are:
Ashley Triscuit — scored in the 99th percentile
David Newland — perfect 170/170 GRE score
There's a full bio for all tutors on the official website, and I like that students can see other students' reviews before booking a class with a tutor.
Many companies out there claim their instructors have scored in the 99% percentile.
While this is helpful, it doesn't mean much if the instructors lack teaching abilities and the skill to transfer their knowledge to the student.
I found Veritas tutors do this very well. They have top-notch instructional abilities.
One other thing I liked is how much access students have to the tutors.
The tutors make videos that students can watch in their free time. I found these to be well-made.
Also, students who choose the Self-Paced Course will get access to live instructor help every day of the week.
These tutors are ready to answer any questions students have. I tested this option and found it to be true. The instructors were ready to explain everything I didn't understand.
All in all, I was happy with the Veritas Prep's instructors, and I was impressed with how much instructor access students have, compared to some other prep courses on the market.
2. Various GRE Prep Courses Available
According to the official website, the company has three GRE prep courses. It is a standard offer, which you'll find in other prep companies as well.
However, Veritas Prep offers multiple packages in each of the three GRE courses.
I was given the option to choose between:
Live online
Self-paced
Private tutoring
The self-study course is also called on-demand, and it comes in 3 packages. The basic package claims to get test-takers ready in a month.
The other two have tutoring options, and the last one even offers a personalized MBA game plan, which is useful for students who plan to get an MBA.
The live online class is taught by David Newland two times a week.
The company claims this course can get students ready in 5 weeks and 30 hours of learning.
The last option, private GRE tutoring, offers GRE prep tailored to an individual student's needs.
It comes in as many as four options, some of which include everything as the self-paced course, and others which give access to the full live online course, plus private tutoring.
This adds up to 8 packages divided into 3 courses. No matter how busy you're or how much preparation you need, you will find a course to suit your needs.
There's enough information on each package provided, so I found it easy to make my choice.
3. Comprehensive Material
Veritas GRE prep course offers materials in different forms — books, videos, and text lessons.
Videos were my favorite. I've watched my fair share of GRE test prep videos where only text and drawings are seen in the video.
This gets boring after a while. The Veritas test prep program has videos where instructors are seen as well, which makes the lessons more engaging.
I've also found the video library to be extensive — there are hours of interactive video lessons available.
GRE on-demand course also offers ten books that contain hundreds of practice problems, test-taking strategies, and summary and explanations of the test content.
GRE prep courses don't usually include books, so I was pleasantly surprised that the Veritas Prep course also has this option.
It's good for students who prefer to study and work on paper too, instead of just online.
The company also claims that students will never run out of practice materials.
Practice exams are included in every package — from self-study to private tutoring, and there's no need to pay extra for them.
Simulated practice tests have a built-in student commenting feature, so test-takers can get return information on how well they did on the practice test.
The practice tests are up-to-date. They are worded similarly to the actual exam, so they indicate what GRE students can expect on the standardized test.
4. A 12-Month Access to the GRE Prep Course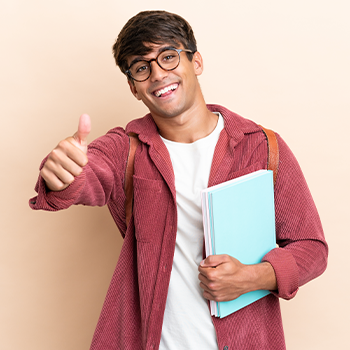 Each student is different, so the time they need to get ready for the Graduate Record Examination also varies.
Knowing how much time you'll need to achieve a desirable GRE score is very difficult.
Luckily, Veritas Prep's GRE self-study courses all come with a year of access.
Educational Testing Service, the company behind GRE, says that students need about three months to get ready for standardized tests. However, this isn't a strict rule.
Regular school, homework assignments, work, and other life situations and obligations can happen, so students may need to take a break from studying for the GRE.
Or, a student who isn't satisfied with exam scores can retake the lessons and try for better GRE scores. Veritas Prep gives this option, as they provide long access to their courses.
This goes not only for GRE but also GMAT prep and other courses offered by Veritas Prep.
Pros:
A long access period
Satisfaction guarantee
Instructor help 7 days a week
Various packages available
Veritas Prep Shortfalls
These are the main shortfalls I found this GRE prep company to have.
1. Limited Satisfaction Guarantee
Veritas Prep only offers a satisfaction guarantee on their more expensive courses. It means there's no money-back guarantee on any self-study and on-demand packages.
So, even if you take these courses and get a lower score than on a previous GRE test, you won't get a refund.
However, I admit situations such as these aren't likely to happen. But, it could be a big deal for students looking for maximum score security.
If you opt for a live online GRE package, there's nothing to fear. You'll get a 5-point score improvement guarantee.
2. Lack of High-Tech Features
Many test prep options on the market offer certain technological features, such as a dashboard, computer-adaptive tests, flashcard decks, progress tracking, and more.
These can come in handy, as students can customize their studying experience.
It's also useful for knowing which areas a student is doing well in and which areas need improvement.
Veritas Prep doesn't have as much course adaptability and customization for each individual student.
While these come in handy, I don't believe they are the deciding factor.
Yes, it's nice to have a dashboard that shows your stats and progress and predicts your GRE score.
But, it's more important how good the instructors are, the quality of online instructions, and the material provided.
Cons:
Not all courses have a money-back guarantee
No tech features
Real Student Results from Taking the Veritas Prep GRE Course
I wanted to check how effective this prep course is, so I decided to do a survey.
I asked five students to take a practice test before and after completing their Veritas GRE course.
After that, I noted down their quant and verbal results, did a comparison and turned their results into percentages.
I concluded there's an improvement in the students' results after studying with the Veritas GRE materials.
TEST SCORE PREDICTOR (QUANTITATIVE + REASONING)
Baseline (Before taking the course)
After taking the course
Improvement

The Veritas Prep GRE Estimates VS. Real Test Scores
I wanted to see how Veritas GRE practice tests compare to the real GRE exam.
I found students preparing for the GRE only with Veritas, and I asked for their results after taking the Veritas practice exam and after the real GRE.
Here's what I found for the quant section:
QUANTITATIVE REASONING
Before (Test score predictor)
Real GRE Test Score
%Accuracy 

Here's what I found for verbal reasoning:
VERBAL REASONING
Before (Test score predictor)
Real GRE Test Score
%Accuracy 

The difficulty level is similar to the official GRE practice tests.
While there's a small discrepancy between the Veritas practice tests and the real GRE, it's not a huge one.
By doing Veritas practice tests, you'll have a clear picture of what score you can expect on the GRE.
Comparison to Other GRE Prep Companies
Let's see how Veritas Prep compares to other top GRE courses.
I've talked about how Veritas has a score improvement guarantee. This is in line with other courses as well.
For example, Magoosh also offers a 5-point score increase guarantee, but PrepScholar has a 7-point score increase guarantee.
Veritas also has a long access period. While it's one of the longest on the market, they aren't the only ones who offer a year of access — Achievable does as well.
Finally, what Veritas lacks, and what other GRE courses such as Magoosh, Kaplan, and PrepScholar all have, are high-tech features.
Most other platforms have quizzes, customizable flashcard decks, progress tracking features, and more.
As for the price, Magoosh may be the best, as their lowest course is priced at $149. Kaplan and PrepScholar also have more affordable courses.
Where to Buy and Cost of Veritas Prep
You can buy Veritas Prep on the official website.
Here's a summary of all packages they offer and their price:
Self-study

GRE on-demand $599
On-demand plus $999
On-demand + admissions $2,400

Live online course $999
Private tutoring

Independent $2,650
Focused $4,750
Ambitious $6,450
Comprehensive $7,450
As I mentioned, you won't get a score improvement guarantee with all of these, but you will with some of them.
If you score only 1 point higher than before, you will get your money back with Veritas, as their minimum score improvement is 5 points.
Also, no matter which of these packages you opt for, you'll get 12 months of access.
Other Users' Experience
Robert J. from Colorado
Robert says he started studying at his own pace with another program, but he didn't see any results. Then he switched to Veritas Prep, and his confidence and testing ability dramatically improved.
Holly S. from Pennsylvania
In her review, Holly says she wanted a program that'll help her reach 170 points, and she managed to achieve this with Veritas.
She is happy she chose this company, as they have courses for determined students who want to have the best results for graduate school admissions.
James P. from Vermont
James was happy with the practice tests, which he felt were indicative of the real exam. He also liked the tutoring lessons with an expert who explained complex ideas and processes.
FAQs
GRE is made up of:
Verbal reasoning section
Quantitative reasoning section
Analytical writing assessment
Analytical writing score is made up of two separate writing tasks, scored by a trained essay rater.
Verbal reasoning has 2 sections, and each has 20 questions.
Quantitative reasoning also has 2 sections. Each section on quantitative reasoning is 35 minutes long.
Will Veritas Prepare Me for GRE?
Yes, Veritas will prepare you for GRE. This GRE course offers plenty of prep material to help you get ready for the exam.
Should You Try Veritas GRE?
Overall, I've had a positive experience with Veritas Prep. While there were some minor shortfalls, the benefits make it worth considering.
However, if you're looking for a top-notch GRE prep at an affordable price, take a look at what Magoosh offers.
Their GRE courses are accessible both on mobile and computer devices, which is a suitable option if you're busy and want to study on the go.
With Magoosh, you can choose between self-study and live online classes and get access to 1400 practice questions and 3 practice tests.
Check out Magoosh GRE packages and start your GRE journey with a trustworthy prep company.
Our #1 Recommendation
Magoosh GRE Prep
The dashboard is easy to use with recommendations for study focus points
Easy to follow written and video instruction
Offers a score predictor to help you assess your progress
Good for both comprehensive and last-minute study
Structured with clear and flexible lesson plans
Get the BEST PRICE until the end of December
Click For Best Price