To go to a college or university in an English-speaking country, you'll have to take an IELTS exam to prove your English proficiency.
One prep company that's been standing out more and more recently is Magoosh.
I decided to try out their IELTS course, and I talked with several students who took the course as well.
My Magoosh IELTS review contains everything you should know about this course.
What is Magoosh IELTS?
Magoosh is an online test prep company that offers prep courses for several standardized tests, such as IELTS, GRE, SAT, ACT, GMAT, and more.
As for English language tests, apart from IELTS, Magoosh also offers a TOEFL course.
Magoosh has been on the test prep market since 2008, it has several awards, and it's rated as one of the best test prep companies.
Magoosh IELTS Highlights
Here are some features of the Magoosh IELTS preparation course I liked the most:
1. Two Learning Options
Magoosh has two IELTS Premium courses available [1]:
1-month course
6-month course
Magoosh says both of these online courses can help you improve your English language skills in all areas: reading, writing, and listening.
After taking the course and getting familiar with all of its features, I have to agree.
Video lessons, practice questions, and practice tests they offer are invaluable to students looking to get a high IELTS score.
A 1-month course is ideal if you're short on time and want to cram in as much knowledge as possible. It's also a good choice if you want to do a final review and practice before the actual exam.
A 6-month Premium course is a better option if you have more time before the exam.
It offers the same things as the 1-month course, plus some extra features, such as the ability to pause your IELTS prep and come back to it when you have time again.
Both courses have the option of Academic or General Training, and you can choose which one you want when signing up:
Academic Training is best if you're looking to get accepted by a university. The Academic IELTS exam lessons include practice problems, a mock exam, and written evaluations. All of these simulate the tasks you'll encounter on the official exam.
IELTS General Training is better suited for people who plan to emigrate, find work, or just travel to an English-speaking country. Lessons in this course can give you the confidence to have a conversation with Native English speakers and find employment.
The choice between two courses makes them tailored to everyone's needs, depending on their desired course duration and if their goal is emigration or acceptance by an academic institution.
2. IELTS Prep Material
Magoosh IELTS preparation includes more than 120 videos. Magoosh says they help master IELTS tasks, and I agree.
The video lessons include shortcuts, tips on what mistakes to avoid, strategies, and hacks to help you score high and give you confidence on test day.
I thought the videos were engaging, and the video explanations were specific and detailed without being overwhelming.
Apart from the excellent video explanation, there are more than 600 practice questions, with writing and speaking prompts.
This gives you more than enough exposure to the kind of questions you'll encounter on the IELTS.
Finally, there are up to 10 full-length practice tests, which is more than enough to get a feel for how IELTS is worded, build test-taking stamina, and identify your weak areas.
3. IELTS App
With the app, you'll have access to Magoosh IELTS preparation 24/7.
You can access the IELTS course on mobile and desktop devices, and it works on all platforms — Mac, iOS, PC, and Android.
My favorite feature was that the app syncs to your desktop account.
This way, you can continue where you've stopped practicing, no matter where you are and which device you use.
This was extremely convenient during busy days or when I was on the go and had some time to kill. No matter which device I used, the platform tracked my progress.
Note: You'll need an Internet connection to access Magoosh IELTS, even with the app.
4. Ask-a-Tutor Option
Even though Magoosh IELTS is a completely self-paced prep with no tutor classes, you aren't left on your own.
Magoosh IELTS has email support that you can use at all times. There's no limit to how many questions you can send. A team of tutors will get back to you.
I tested this option, and I was happy with how it worked.
Every question I sent was answered in sufficient detail, and I got a reply within three business days.
Magoosh is also open to feedback, and you can send your opinion on any features you think need improvement.
Finally, there's a Facebook group where you can talk with other students and get help.
You can ask about anything you're struggling with, and other students will answer.
It's also a faster way to get a response than email support.
5. Customizable Features
Magoosh IELTS is already pretty flexible — you can choose between two different length courses and academic or general modes. This flexibility extends into the course structure itself.
The whole IELTS course is broken down into sections. This makes the lessons more manageable and digestible, and it's easier to identify your weak points.
You can choose to focus on:
Exam lessons — These lessons teach you how to take the exam. They explain what kind of questions IELTS has and how to do them.
Grammar lessons — These lessons are focused on teaching speaking, reading, and writing.
Another customizable feature is the practice questions. You can choose between:
Practice mode — where you see the answers immediately.
Quiz mode — where the answer is shown once you're done.
The dashboard is flexible as well. It'll give you suggestions on which lessons to take based on your performance, which I consider very helpful when preparing for this exam.
Magoosh IELTS Pros
These are the biggest pros of Magoosh IELTS:
Affordable
Score improvement guarantee
Available on mobile and desktop devices
Regularly updated content
2 Magoosh IELTS Shortfalls
These are some areas where I felt Magoosh could do better:
1. No Live Online Classes
Compared to other courses Magoosh offers, such as Magoosh GRE, their IELTS academic and general courses don't have any live classes.
This is a completely self-paced online course without any private tutoring available.
All lessons are pre-recorded videos.
If you learn best in a traditional classroom setting, this may not be the IELTS prep for you.
However, thanks to their tutor access, it's not a dealbreaker.
You'll always have free access to email support, so you can ask as many questions as you need and get tutor support this way.
2. Only Writing and Listening Review Available
The only Magoosh IELTS review available is for the writing tasks and listening section.
There's no way to record and upload audio samples for their tutors to review.
While the graded essays review is helpful and can lift your essay writing abilities to the next level, it would be nice if they also got students ready for the speaking section of the exam.
Magoosh IELTS Cons
These are the biggest cons of Magoosh IELTS:
No live online classes
Limited score improvement guarantee
Real Student Results from Taking This Prep Course
To check how good Magoosh IELTS prep is, I wanted to see real students' results.
I talked with several students and asked them to report their practice test results before starting Magoosh IELTS and after finishing the course.
Then I put their results in a table and calculated the improvement percentage, which you can check below. I concluded that Magoosh is very helpful in raising students' test scores.
Baseline (Before taking the course)
After taking the course
Improvement

Magoosh IELTS Prep Estimates VS. Real Test Scores
A practice test can be a good indicator of how well you'll do on the real exam.
It helps you get familiar with the official test wording and allows you to start test day stress-free.
I did another survey to establish how effective Magoosh's test is in predicting the real test scores.
I found a group of students studying only using the Magoosh IELTS prep and asked them for their practice test and official exam scores.
Here's what I found out:
Baseline (test score predictor)
Real IELTS test score
% accuracy

As you can see from this table, there's usually a slightly higher score on the official IELTS than on the Magoosh IELTS prep test.
This is because Magoosh's test is somewhat harder than the real IELTS but in a good way.
It'll help you ace even the most complex questions, and you'll have an idea of what to expect on the test day.
Comparison to Other IELTS Prep Courses
Here's how Magoosh IELTS compares to other companies that offer IELTS prep courses.
Kaplan, Princeton Review, and eeX IELTS all offer live online or private tutoring classes, while Magoosh doesn't.
When it comes to price, Kaplan comes in first at $65, with Magoosh next at $109, and edX being the most expensive at $169.
As for the course length, Magoosh has two options - a 1-month course and a 6-month course, Kaplan's course lasts 6 months, while edX is only 8 weeks long.
Magoosh has all other courses beat with the practice test offer, as they offer 10 practice tests.
Kaplan comes in second with only four tests available.
Other IELTS Prep Courses We've Reviewed:
Cost
All Magoosh IELTS courses are available on the official website and are priced at:
Premium 1 month $109 (one-time payment)
Premium 6 months $129 (four-time payments of $32.35)
Both courses come with a target band score guarantee, so if you do worse than on a previous IELTS, you'll get your money back, no questions asked.
Magoosh also offers a 7-day free trial, which gives you access to about 20 explanation videos and practice questions.
There's no need to enter credit card details when signing in for the free trial.
Other Users' Experience
Mike R. 
Mike says Magoosh is the best online IELTS prep he tried, and he tried several of them.
He says IELTS Magoosh is the complete package, has the best tutorials, and similar questions to the real exam.
Laura P.
Laura liked the explanations following each module and the strategies for answering different kinds of questions.
She says there are more than enough practice questions available for every difficulty level, and she didn't have any issues getting answers to the exam questions she sent to the tutors.
FAQs
The IELTS is a standardized test of English proficiency for non-native English language speakers.
It's provided by the British Council, IDP: IELTS Australia, and Cambridge Assessment English [2].
Is Magoosh Good for IELTS?
Yes, Magoosh is good for the IELTS. It's one of the best IELTS prep courses on the market.
It offers detailed explanation videos, hundreds of practice questions, and up to 10 practice tests.
Can I Crack the IELTS in One Month?
Whether you'll be able to crack the IELTS in one month depends on your current level of English proficiency.
Some students can get a good score with only 15 days of self-study.
Is Magoosh IELTS the Course for You?
After completing my Magoosh IELTS review, I can say yes, this is the course for everyone who has to take the IELTS.
Magoosh offers good and reachable material and flexible classes that you can access on any device, no matter where you are.
The price difference with other courses makes Magoosh highly affordable. It has hundreds of high-quality video lessons and practice questions.
If a practice test is your main concern, Magoosh has you covered with more than 10 tests. You'll get everything you need to achieve a high overall band score.
Finally, there's a 7-day free trial, so you can try it out with peace of mind. Click here, and check out everything Magoosh IELTS has to offer.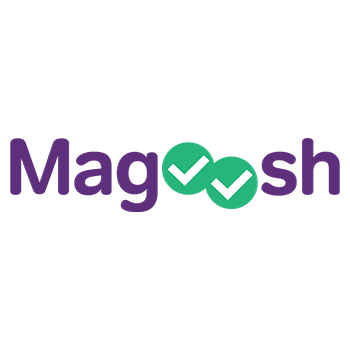 We Recommend
Magoosh IELTS
Affordable
Score improvement guarantee
Available on mobile and desktop devices
Regularly updated content
Get the BEST PRICE until the end of October
Click For Best Price