Magoosh is one of the most popular TOEFL prep courses, so we decided to try it out. We also had some students go through the course to see if it was as effective as claimed.
After trying out the Magoosh TOEFL course, we wrote this review so that you could learn what to expect from Magoosh.
What is Magoosh?
Founded in 2009, Magoosh is an online test prep company that offers test preparation materials for various standardized tests [1]. They are headquartered in Berkeley, CA.
Magoosh started offering TOEFL prep courses in 2013. Their products are available online and on all major digital platforms.
Benefits and Highlights:
Magoosh offers an online TOEFL review course that provides many helpful resources to students preparing for the test.
We tried out Magoosh to see if it could help us improve our TOEFL scores. Here's what we learned.
1. Instructional Material
Magoosh offers plenty of instructional material to help you prepare for the TOEFL exam. This includes 120+ video lessons covering all the content found on the TOEFL. The lesson topics range from English grammar basics to strategies for improving your TOEFL score.
The videos are entirely online, with no DVDs or books required. So, you may practice at any time. Also, it works on PCs and any other device with an internet connection.
We found the instructional quality to be excellent. The lessons were engaging and helped make more challenging grammar points clear.
Further, we appreciate that we could ask unlimited questions via email to live English teachers when we didn't understand something.
2. Practice Material
Magoosh offers over 420 practice questions with an in-depth explanation video for each, and the prep course has 6 full-length mock tests. Each practice test will give you scores and detailed explanations on why your answers were correct or incorrect so that you can learn from your mistakes.
These English language skills tests are timed and graded just like the real exam - reading, listening, speaking, and writing.
Magoosh also offers flashcards to its students so that they can study on the go. If you use the cards over time, you can memorize and gain a solid grasp of the TOEFL material.
We thought the practice questions were top-notch. That being said, we were slightly disappointed to see some of those questions resurface on the practice tests. However, the quality of each video explanation made up for this inconvenience.
3. Guarantee
Magoosh offers a seven-day money-back guarantee with all of its products. You can email them for any reason within one week of your purchase, and they will refund your money without any questions asked.
They also have a higher score guarantee. If you complete its program, Magoosh promises you will improve four points over your previous score, or they will give you all your money back with no strings attached.
Pros:
The course is entirely online
In-depth review of all TOEFL topics
Lots of practice exercises to improve your skills
Lessons for all learning styles
Our Rating
Practice Material: 5/5
Instructional Quality: 5/5
Guarantee: 5/5
Price and Value: 4.5/5
Shortfalls
Although the course has many benefits, there are some areas where Magoosh falls short. For example, the one-month price is almost the same as the six-month price, which is not helpful to those on a budget.
Also, the writing and speaking practice is not as strong as the reading or listening, so you may want to supplement Magoosh with other methods or TOEFL preparation courses.
Cons:
Weaker in writing and speaking
Fewer full-length practice tests than other programs
Comparison to Other Products
We wanted to compare Magoosh with some of the best TOEFL prep courses available, and here's what we found.
1. Kaplan TOEFL
Kaplan is one of the top TOEFL prep courses known for its practice and preparation for test-takers. They accomplish this through various means, including actual exam conditions in its classes, providing an experienced TOEFL tutor, and self-guided study plans.
In comparison to Kaplan, Magoosh TOEFL is less expensive and has a more significant score guarantee. However, Magoosh TOEFL has fewer video lessons for students.
2. Princeton Review TOEFL
The Princeton Review is a company that provides test preparation courses for various tests, from SATs to licensing exams. However, their approach to the TOEFL is to offer private tutoring rather than online prep courses.
Compared to Magoosh, the Princeton Review's tutoring service comes at a much higher price. Magoosh does not offer the individual attention of Princeton Review, but you can get six months of access for less than a single hour of Princeton Review tutoring.
3. PrepScholar TOEFL
PrepScholar offers a comprehensive program for TOEFL prep that includes practice questions, interactive lessons, flashcards, 1-to-1 writing reviews, and a diagnostic test. Not only that, but PrepScholar offers a massive 15-point score improvement guarantee or your money back [2].
Magoosh also has many of the benefits offered by PrepScholar, but it is pricier. Magoosh TOEFL prep course also gives you a risk-free seven-day trial period, while PrepScholar's trial period is only five days.
Other Magoosh Prep Courses We've Reviewed:
Pricing
The Magoosh TOEFL prep course offers two pricing plans to choose from, depending on how long you want access to the course.
You can purchase 1-month access for $109 or a 6-month program for $129. Both are available on the Magoosh website.
Each comes with similar features when it comes to video lessons, practice questions, practice exams, and study schedules. However, the extended plan provides four graded writing assignments instead of one for the shorter program.
Given the narrow price difference for an extra 5 months of access, the 6-month plan makes more sense unless you are short on time.
Real Student Results
We wanted to learn whether students who used the Magoosh TOEFL prep course were able to experience a real improvement in their TOEFL test scores.
To find out, we had students take the Magoosh TOEFL preparation course and then took a follow-up test to determine how much they improved.
Our students saw gains in their scores after using the Magoosh TOEFL prep course. Even the student with the least improvement upped their score by 12%, while the most significant change was for a student who managed to raise their score by 33%.
Baseline (Before taking the course)
Score After taking the course
% Improvement

How Accurate is Magoosh Compared to the Real TOEFL?
We were interested in learning how accurate the Magoosh TOEFL prep test is, so we surveyed five students who had taken it.
We looked at the results of the final TOEFL practice test, then we had them take the actual TOEFL. The table below shows theresults.
Baseline (Before test predictor)
Actual Test Score
% Accuracy

We can say that Magoosh is very accurate on average, with the accuracy of between 95% and 98%.
It is worth mentioning that Magoosh appears to be a bit harder than the real test. If your score on Magoosh is lower than you expected, it does not necessarily mean you will get a lower score on the actual exam.
Other Users' Experience
Magoosh's TOEFL preparation course receives positive reviews online. Students who reviewed Magoosh's service on sites like Reddit praised the program.
David from Maryland thought it was one of the best TOEFL prep courses he had tried, and it helped him get his score up fast.
Anthony from Tennessee mentioned that he was worried about not using TOEFL prep books for his studying but that it worked out well.
Karen from Florida highlighted that she tried different TOEFL prep courses but was grateful to have found Magoosh. After using the Magoosh TOEFL course for two months, she managed to increase her score by 15 points.
FAQs
How Is the Course Delivered?
The Magoosh TOEFL prep course is delivered through video lessons, quizzes, and practice exercises that are 100% online. You get speaking and writing work and practice for the listening section.
Are There Practice Tests?
Magoosh TOEFL test prep offers practice tests created from your pool of unanswered practice questions. You can generate full-length tests that reflect the actual exam one practice question at a time.
Magoosh TOEFL preparation course is best for students who want to improve their TOEFL scores without attending in-person classes or purchasing a more expensive course.
It is a good choice for self-motivated learners who like video lessons or anyone who wants to study anytime and anywhere.
Does Magoosh Have an App?
Yes, like all current online TOEFL prep courses, Magoosh has an app available for iOS and Android devices so that you can learn on the go.
Magoosh TOEFL Course Review: Final Thoughts
Magoosh is considered one of the best TOEFL preparation courses, and we have to agree. It covers all aspects of preparing for the TOEFL exam, from practicing speaking to writing essays.
The Magoosh TOEFL online lessons are user-friendly and engaging. You can also track your progress to see how you are doing and what areas you need to focus on more.
In addition, Magoosh offers a wide range of practice questions and tests so you can get comfortable with the questions they will ask on the actual test.
Magoosh is well worth the consideration for anyone looking to take the TOEFL. Check it out here.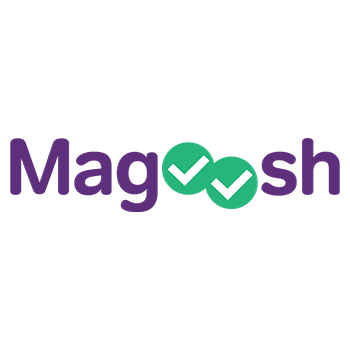 We Recommend
Magoosh TOEFL
Graded Writing Assessments
Custom Study Schedules
Practice Tests
420+ Practice Questions
Expert Video Lessons
Accurate Score Predictor
Get the BEST PRICE until the end of December
Click For Best Price