Kaplan is one of the most well-known and respected names in test preparation.
We have taken their NCLEX prep course and sent several students through it as well to see whether it was as effective as promised.
Let's take a look at what to expect from Kaplan and if it is the right course for you.
What is Kaplan?
Kaplan was founded in 1938 as a small test prep company [1]. It has since grown into one of the largest education companies in the world.
Kaplan offers test preparation for various standardized tests, including the NCLEX RN exam. Their courses are easy to access in several formats and are available worldwide.
Benefits and Highlights:
Kaplan offers a variety of resources to help students prepare for and pass the NCLEX RN exam.
Here is what we found from taking the Kaplan NCLEX prep course.
1. Instructional Material
Kaplan NCLEX prep course has a variety of instructional materials to help you prepare for the NCLEX RN. This includes videos and live streams.
The videos are available online and are accessible 24/7. Live instructional periods are available to those in the live online class. The dates and times are listed well ahead of time on the Kaplan website.
We were torn about which instructional method was superior. We thought that the videos were engaging and well-organized. This helped us remember essential information well and recall it for the exam.
However, we also liked the live interaction with the teachers and appreciated that it allowed us to ask questions in real-time when we were unsure about something. We felt the Kaplan instructors explained complex topics clearly and concisely.
Because of this, we don't think you can go wrong no matter which instructional method you choose.
Read More: NCLEX 3-Step Study Plan
2. Practice Material
Kaplan's NCLEX RN prep course offers an abundance of material, including over 2,100 questions in the Kaplan NCLEX 'QBank.'
This question bank is full of realistic practice questions that come with complete answers so you can understand why the right answer is the correct one. The questions are very similar to those on the actual exam.
Besides the large bank of questions, you also get access to three full-length practice tests, the NCLEX Channel, and an e-book for a comprehensive content review.
We liked the personalized feedback we received about our test performance from experienced nurse educators and think it is a good way to build nursing students' confidence. We also felt the test questions were very similar to the actual NCLEX RN exam.
3. Guarantee
Kaplan is confident in the quality of its NCLEX review course and offers a money-back guarantee. If this is your first time taking the NCLEX RN, you can receive a full refund if you cannot pass this exam after using Kaplan's materials.
That being said, Kaplan does not offer a trial period or a satisfaction guarantee. If you sign up for the course, they expect you to complete it.
Pros:
Live interaction with the teachers
Detailed answers to practice questions
Realistic practice exams
Money-back guarantee
Our Rating
Practice Material: 5/5
Instructional Quality: 5/5
Guarantee: 4.5/5
Price and Value: 4/5
Shortfalls
Though this Kaplan course is comprehensive and gives you options for studying for the exam, because Kaplan uses live instructors, it is more expensive than many competitors.
The video production quality is acceptable but not exceptional, and the video lessons' explanations left me wanting more sometimes.
Cons:
Course is expensive
Lower technical video quality
Comparison to Other Products:
Kaplan is a popular and well-known provider of NCLEX review courses. But how does it compare to other popular options? Let's take a look.
1. ATI NCLEX
ATI is a company that offers a review course for the NCLEX exam with adaptive quizzes, over 3,300 practice questions, and sample exams. You have options of self-guided study, one-on-one tutoring, or live instruction.
Kaplan offers similar access to practice tests, instructional videos, and a question bank; however, Kaplan's course is better at catering to those who want live instruction.
2. Princeton Review NCLEX
Though the Princeton Review offers test preparation courses for many types of exams, its NCLEX course is relatively new. Because it is less well-established, the Princeton Review's offering is limited to practice questions.
Kaplan has a much broader offering with practice questions, exams, videos, and live instruction available. Though more expensive, Kaplan is better for those looking for comprehensive test prep.
3. NurseAchieve
NurseAchieve's NCLEX review course offers access to adaptive practice testing, instructional videos, flashcards, and a 2,150+ question bank. This course is more affordable compared to Kaplan's course.
Kaplan also offers access to practice tests, instructional videos, and a question bank; however, Kaplan's course also includes the option for live instruction from an instructor.
Pricing
Kaplan offers three options for their NCLEX Review Course, depending on your preferred learning method. They are all available from the website, and the options are:
Self-paced for $399
Live online for $499
In-person classes (currently unavailable due to COVID-19)
All learning options come with exam-style practice questions, a video library, three practice tests, a content review guide, and a 500-page ebook.
Kaplan also offers a variety of a-la-carte study options for its students. You can choose from:
A practice pack with access to the question bank, three computer adaptive practice tests, and their library of instructional videos for $279
Just the question bank and practice tests for $199
Just the question bank for $99
Just the practice tests for $129
All the plans come with 180-day access so that you have plenty of study time before test day.
Real Student Results
To find out if Kaplan students experienced a real improvement in their NCLEX test scores, we had students take a Kaplan NCLEX prep test before and after using the course.
Numerical data was impossible to get since NCLEX is pass-fail, but we did note that the percentage of students who passed the NCLEX at the end of the course improved. At the end of the class, all our students passed the test.
How Accurate is Kaplan Compared to the Real NCLEX?
We were curious how closely the Kaplan NCLEX review course mirrored the real NCLEX, so we had five students who only used Kaplan to study for the test provide us their results from the last practice exam they took.
We then had those same five students take the actual NCLEX and compared the results.
The NCLEX is pass-fail, and all of our students passed the Kaplan practice exam.
They also had a 100% success rate in passing the actual exam, which showed a perfect correlation.
Other Students' Experience
Students who used Kaplan's NCLEX Review Course and reviewed it on Reddit had good things to say about the program.
John from Alabama highlighted that he liked that the course was organized by topic.
He said he was able to focus on one topic at a time, which helped him retain the information better.
Dean from Florida shared that Kaplan's online instructors were very knowledgeable and available to help him with his critical thinking skills.
FAQs
What Is the Kaplan NCLEX Test Prep Pass Rate?
Kaplan does not publish its pass rate because it would be based on survey results. But one can infer by its 100% money-back guarantee for first-time test takers that the company is confident in its ability to help students pass the NCLEX.
Is Kaplan Test Prep a Lot of Work?
Yes, Kaplan test prep is a lot of work. Kaplan's prep course gives you what you need to succeed on the NCLEX, but you need to do your part.
What Is the Difference Between Live and Self-Paced Courses?
Both Kaplan test prep courses have the same online resources, but the live course features the option to interact with an instructor and ask questions. The self-paced course has pre-recorded lessons you can review whenever you want.
Kaplan NCLEX Review Course - Should You Buy It?
Kaplan is one of the most reputable test prep companies in the world and their course prepares you for the questions they will ask on the actual NCLEX RN.
Their online course is comprehensive, informative, and engaging. We like Kaplan's test-taking strategies - they help you avoid common mistakes students make when taking the NCLEX.
If you are looking for a review course with various resources, including video lessons, practice questions, and quizzes, Kaplan is an option you should consider.
Click here to check it out.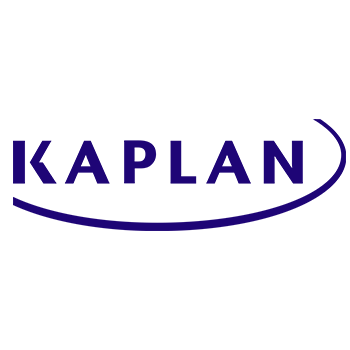 Our #1 Recommendation
Kaplan NCLEX
Full NCLEX course, live or on demand, with 18 hours of lectures led by nurse educators
2,100+ test-like Qbank questions
3 full-length computer adaptive tests
NCLEX Channel lessons, live or on demand
On-the-go study plans on our mobile interface
Get the BEST PRICE until the end of October
Click For Best Price