An AP Japanese class mimics the classes you'll take when you move on to an intermediate-level Japanese course in college.  The AP exam that follows will test your communication skills, including the interpretation of both written and audio skills you've developed throughout the school year.
While it may be difficult to learn a whole new language, it's not impossible so long as you have a good foundation. Start by getting the best AP Japanese books. In this review, you'll find out if our best AP choice is worth the investment.
Our Best AP Japanese Language & Culture Book
Strive for a 5: AP Japanese Practice Tests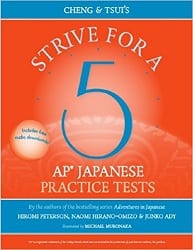 The Strive for a 5 AP Japanese Practice Tests book is a best-seller when it comes to the AP Japanese Language and Culture exam preparation.
It's an ideal companion for any AP Japanese textbook that you may be using right now. As the best AP Japanese practice test prep book, it aims to enhance your knowledge and mastery through a series of practice tests to help gauge your progress along the way.
It has 20 practice tests complete with an answer key. It also contains useful test-taking tips and strategies to build your confidence for the AP exam day.
We particularly like how it includes study materials in an audio format and kanji flashcards as extra review resources.
For more practice tests that follow the latest AP Japanese exam format, you may get the full edition of this AP Japanese prep book.
The full edition of the book includes additional practice questions for every section and newly expanded culture notes for all the 20 topics included in the AP Japanese exam.
Unfortunately, the book contains a few printing mistakes that only a native Japanese can determine. Other than that,  this book is one of the best AP materials for AP Japanese exam preparation.
Key Features of the Strive for a 5 AP Japanese prep book:
20 practice tests that cover grammar, vocabulary, kanji, and other key topics
Wide variety of listening, speaking, reading, and writing section that you specifically choose from depending on what you want to focus on
Includes several expert's advice
Includes an answer key for self-evaluation
Free downloadable audio recording
Pros
Ideal companion for Japanese language study
Easy to understand review book
Enough number of practice tests
Affordable book
Cons
Has quite a few printing mistakes
Exam Information
The College Board AP Japanese exam is approximately 2 hours and 15 minutes long and covers two sections, multiple choices, and a free-response section.
Section 1: Multiple choice type questions and has 70 questions answerable with 1 hour and 20 minutes
Part A - Listening section with 30 to 35 questions to be answered within 20 minutes.
Part B - Reading section with 35 to 40 questions to be answered within 60 minutes.
Section 2: Free response section that consists of 4 tasks answerable within 40 minutes
Part A - 2 Writing sections to be answered within 30 minutes
Part B - 2 Speaking sections to be answered within 10 minutes
Final Thoughts: Best AP Japanese Language and Culture Book
The College Board AP Japanese exam is pretty challenging, especially if you're not a native Japanese speaker. But with the best AP study tools and resources, you can pass the exam with flying colors.
As you prepare for the AP exam, we recommend you pick a comprehensive AP Japanese Culture textbook first to understand the concepts fully.
Supplement it with the best AP study guides like the Strive to a 5 AP Japanese practice tests book to properly gauge your progress and pinpoint the areas you need to focus on. It contains an impressive number of practice examinations that cover the listening, writing, reading, and speaking sections of the test.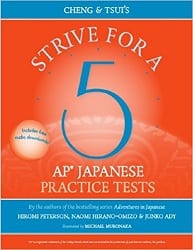 Our #1 Recommendation
Strive for a 5: AP Japanese Practice Tests
Suitable for Japanese language study
Easy to understand review book
Includes 20 practice tests
Value for money
Check Current Price