One of the best ways to get a high score on the Graduate Record Examination (GRE) is to take a GRE prep course. However, the market is full of GRE prep courses, so students are often overwhelmed and don't know which one to choose.
I've tested all the GRE prep courses available, and I've helped countless students get ready for the GRE, as well as choose the best prep course.
Today, I'll do a PrepScholar vs. Magoosh comparison, so you can decide which one fits your study needs better.
What is PrepScholar?
PrepScholar is an online test prep company. Founded in 2013 by Harvard and MIT Ph.D. graduates, they claim they are the #1 company in the test prep industry [1].
PrepScholar offers SAT, ACT, GMAT, and TOEFL, among other prep courses. They offer three GRE prep courses, and the students can try the course for free for five days.
PrepScholar GRE Highlights:
Both Magoosh and PrepScholar have several benefits, but let's start with the PrepScholar GRE courses. I tried their GRE courses for several months, and here are all the features I liked.
1. Smart Technology
The company says they offer a course curriculum personalized to the student's ability, which I found to be true and very useful in GRE preparation.
When test-takers first sign-up, they are asked to do a diagnostic test to evaluate their current knowledge level and general GRE skills.
Then, PrepScholar uses an algorithm called CustomPrep, which designs the whole GRE study plan. It means each PrepScholar student has an entire course developed especially for them, which is an impressive level of personalization.
Moreover, students can choose when to take lessons and what lesson they want to work on that day. I liked the flexibility I had while doing the PrepScholar GRE prep.
Also, the system gives the easier lessons first and then gradually moves to more difficult material, so you can see your score improve as you work through the material.
2. Instructors
PrepScholar tutors have all scored in the 99th percentile, making them the top 1% GRE test-takers. Moreover, they are graduates from prestigious schools, such as Harvard and Columbia.
The tutors use their experience to design practice questions, practice tests, lessons, and explanations.
I found the courses to be authentic, and I loved the great attention to detail when writing the practice problems and explanations.
3. Progress Reports
One of the things that can help get students ready for the actual GRE exam is the progress report. PrepScholar does a great job of progress tracking.
They keep the students informed of their progress via a report available from the student dashboard.
They also notify the students via emails about what has been covered and what's left to learn.
You'll also get emails about the course schedule for each week, which I found useful as it lowers the chance of forgetting the lesson time.
4. Course Access
Another thing I liked about the PrepScholar GRE course is the course access. They give one year of access, which is one of the longest access periods on the GRE prep market.
This is more than enough time to study for the GRE. If you aren't satisfied with the results, you have plenty of time to review and retake the exam.
Moreover, their most expensive course comes with lifetime access, which means you'll have years of access to PrepScholar GRE material.
Pros
High score increase guarantee
Affordable price
Course personalization
7 days long free trial
My Custom Rating Criteria
Price 5/5
Course access 5/5
Course material 3/5
PrepScholar GRE Shortfalls:
While trying out their GRE prep courses, I found some things I didn't like.
1. Course Study Materials
One of the biggest shortfalls of PrepScholar is the GRE prep course material.
While it's true that they offer 2,000 practice questions, this is less than some other prep courses on the market.
I also didn't like that they offer only two practice tests, which is the lowest on the market.
The tests are certified by the ETS, the company behind the GRE. Also, there are computer adaptive practice tests, which means the next question you'll get is determined by how well you answered the previous one.
However, as doing the practice exams is a crucial part of test prep, two tests are too low for most students.
Also, their instructors will review the essays for the analytical writing section only if you have the most expensive package.
2. No Phone App
PrepScholar doesn't have a smartphone app. While this isn't a dealbreaker, it's useful to have the app for studying on the go and between classes.
This is something that students who like to study on the phone, or are very busy, won't like.
Cons
No GRE prep app
Only two practice tests
Where to Buy PrepScholar?
PrepScholar offers online prep courses, all of which are available on the official website. The courses are priced at [2]:
Free — 5-day trial
$38 — 1-year access
$345 — unlimited access
What is Magoosh GRE Prep?
Magoosh is an online test prep company that was founded in 2008.
Some of the courses they offer are GMAT, TOEFL, SAT, ACT, MCAT, and more.
They are well-known for their affordable GRE preparation courses and have helped millions of students get into their top grad schools.
1. Study Materials
Study materials are among the most important prep course features, and Magoosh offers high-quality materials at affordable prices.
Magoosh also offers a customizable GRE course. Students can tailor the practice questions to their needs by selecting the difficulty level, the number of questions to answer, and the specific part of the test they want to work on.
I particularly liked that the materials are shown in two forms:
Practice mode — Students see the explanation right away.
Quiz mode — Students have to click to see the explanations.
I found the explanations to be very detailed.
The video lessons are professionally done. Video lessons go in-depth on each topic they cover, and I liked that the instructors explain the answers at the same time they show them, which makes complex problems easier to understand, especially in the math section.
2. Phone App
Magoosh gives a full GRE prep experience by providing a phone app. The app is available on Android and iOS devices [3].
I was able to access all course materials from the app, which made studying on the go extremely easy.
There's also a great vocabulary app that works even without internet access and is an excellent tool in improving the vocabulary and getting ready for the verbal section.
3. User-Friendly Platform
Magoosh has a customizable platform that's very easy to use. The design is clear, and I didn't experience any lagging issues.
You can navigate all parts of the website from the platform and track your progress.
Based on your results, the dashboard also shows suggested lessons focused on areas you need to improve. My favorite part was seeing the projected score increase as I went through prep materials.
You'll know how much more work you need to reach the target score and what to expect on the real GRE.
Pros
A study schedule allows you to study at your own pace
High-quality video instruction
Customizable practice sets
Affordable
My Custom Rating
Price 5/5
Course access 4/5
Course material 5/5
Magoosh GRE Shortfalls:
Here's what I didn't like about the Magoosh GRE tutoring package.
Live Online Classes
One area I think Magoosh could improve in is live classes. They didn't offer any live sessions until recently, so this is a huge improvement.
However, these resemble office hours where students can drop in five days a week and ask questions.
This can be a drawback for some students. However, considering how affordable Magoosh courses are, it's a huge plus that they offer this as well.
Cons
No live classes
3 practice tests
Where to Buy the Magoosh GRE Course?
You can buy Magoosh Gre prep on the official website. The courses are priced at [4]:
Premium 1 month - $169
Premium 6 months - $199
Premium + Classes - $199
All courses have a 7-day free trial and a score increase guarantee.
FAQs
Is Magoosh Worth It for GRE?
Yes, Magoosh is worth it for the GRE. They have some of the most affordable options. Their GRE questions, phone app, and practice test can help students get a high GRE score on the actual test.
PrepScholar vs. Magoosh GRE: What Should You Choose?
Both PrepScholar and Magoosh are good options to prepare you for standardized tests such as GRE. However, my vote goes to the Magoosh GRE preparation program.
Magoosh has better material and an excellent study plan. They also offer a computer-adaptive diagnostic test, a higher-score guarantee, and better course options.
Finally, Magoosh's video lessons are top-notch, and you'll have access to the course on a phone app as well.
Take advantage of their generous score increase policy, and start preparing for the real test as soon as today.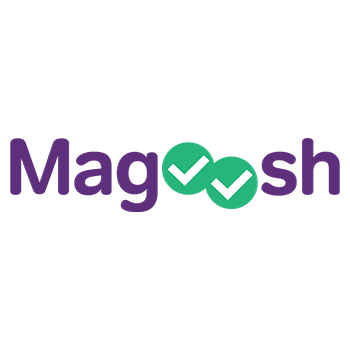 Our #1 Recommendation
Magoosh GRE
The dashboard is easy to use with recommendations for study focus points
Easy to follow written and video instruction
Offers a score predictor to help you assess your progress
Good for both comprehensive and last-minute study
Structured with clear and flexible lesson plans
Get the BEST PRICE until the end of October
Click For Best Price