Most students I've tutored frantically text me the day after the Graduate Record Examination (GRE), wanting to know when the schools they applied to will receive the official test scores.
Well, the answer isn't simple, and it depends on whether you are taking the GRE general test or GRE subject test.
There's also a difference between the official GRE score and unofficial scores.
I also had to worry about the same questions when I took the GRE. So, I used over a decade of academic experience and what I learned while helping other students prepare for the GRE to write this guide.
Here's everything you should know about how long it takes for schools to receive GRE scores.
How Long Does it Take Until You Get GRE Scores?
It depends on the type of scores - official or unofficial. Let's discuss first how long does it take to get GRE unofficial scores.
Unofficial GRE Test Scores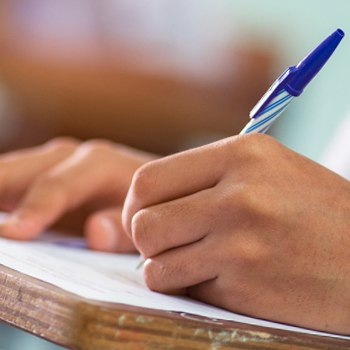 The good news is, if you take a computer-delivered GRE, you'll be able to see the unofficial scores for both verbal and quantitative sections right on the test day at the test center.
Just choose the "report your scores" option once you've finished the computer-based test.
Unofficial verbal reasoning and quantitative reasoning scores will be between 130 and 170.
The analytical writing section is scored differently, and you won't be able to see the scores right away.
Also, this section has to be graded by a person, not a computer.
You'll be able to view these scores 10-15 days after you do the test.
These scores are unofficial because they are based on other test taker's scores.
That way, everyone gets a fair chance, so it doesn't matter if someone takes an easier or a more difficult version of the test.
Note: People in charge of GRE account for this beforehand. This means, if there's a difference between your official and unofficial scores, it's unlikely it'll be more than a couple of points.
Official GRE Scores
Official GRE results are usually available 10-15 days after you take the GRE.
Once the official scores are in, you'll get an email notification. To view the score report, you should log into your GRE account.
The official score reports include final GRE scores for all three sections, and this is when you can see the analytical writing official scores for the first time.
The free score reports will include:
Score reports from previous GRE you may have done.
Percentile for each score, so you know how well you did compared to other applicants.
The list of schools you want to send your score report to.
Another thing you can now check is the free GRE Diagnostic Service. This service helps determine your weaknesses and strong points if you want to retake the GRE.
The service includes the following info:
How much time you spent on each question
Questions you answered correctly
Questions you answered incorrectly
Question difficulty
Keep in mind that test takers can only access the free GRE Diagnostic Service four days after the official score report is available and a maximum of up to six months after the test date.
Since it takes up to two weeks to receive the official scores, I always recommend taking the GRE at least a month before the school's application deadline. This way, you'll get GRE scores on time.
How Long Does it Take to Get GRE Paper-Based or GRE Subject Test Results?
How long will it take to get GRE results depends on the type of test. Test takers who take paper-delivered test at the GRE testing center will get their score reports later than those who take the computer-delivered test.
In this case, you should expect to wait up to five weeks to get GRE scores.
The procedure for a paper-based GRE score is the same as the one for computer-based GRE.
You'll get an email notifying you that final, official scores are available in your ETS account.
You'll be able to see the percentile for the analytical writing section, verbal reasoning, and quantitative reasoning section.
If you are planning to take the GRE, keep in mind that subject tests and paper GREs are only available three times a year.
You should schedule the test at least two months before the application deadline of the school you're interested in to make sure Educational Testing Service ( ETS) will send GRE scores on time.
The same goes for GRE subject tests — you'll have to wait up to five weeks after the testing date to get the score report.
If you want additional score reports, just make a request, and ETS will send them to you.
Note: You can request an additional score report up to five years after the exam date.
How Do You Send Official GRE Scores to Schools?
Here's the best part — You don't have to send GRE scores to schools; the ETS does it for you.
When you take the GRE, you can choose up to four schools you want ETS to send scores to. This option is covered by the GRE test fee.
"With the ScoreSelect option, you can choose which test scores to send to the institutions you designate, so you can send the scores you feel show your personal best, giving you more confidence on test day."
-The GRE General Test, YouTube Channel
Once you've finished the test, you can see only the scores that are unofficial and specify which schools to send score reports to.
If you choose score recipients on test day, they will get the scores 10 to 15 days later.
Note: If you've taken GRE multiple times, you can choose which GRE scores from the past five years to send.
If you're not satisfied with the results and want to try again, you can choose not to send GRE scores.
The Cost of Sending Scores
You can choose up to four score recipients as part of the GRE test fee, so make sure these are your top choices [1].
Four score reports are covered by the test fee. However, you can also send additional reports by logging into your ETS account. In this case, you'll have to pay $27 for each new recipient.
This takes about five business days to process, so once again, keep in mind the application deadline when sending scores.
How Does GRE Scoring Work?
The three GRE scores you'll see correspond to the three GRE sections:
Quantitative reasoning score
Analytical writing score
Verbal reasoning score
The verbal reasoning and quantitative reasoning sections are scaled. They show how well you did the tests compared to other test takers.
Moreover, the difficulty of the second section depends on how well you do the first section [2].
Only correct answers count towards the final score for each test session, and wrong answers aren't penalized.
Analytical writing score is graded differently. Each essay gets one GRE score from a person and one score from an e-rater — a computerized program.
If the scores are close, their average is counted as the final score. If the scores aren't close, a second human is asked to give another score.
In this case, the final score for the analytical writing section is calculated as the average of the two scores that humans provide.
How Long Does it Take for Your Scores to be Sent?
The answer to this question depends on the type of GRE test you've taken.
If you've taken a computer GRE, the scores will be sent in 10-15 days. In case of a paper GRE, they will be sent after five weeks.
Schedule the test far enough in advance so you don't miss the application deadline for the graduate programs you're interested in.
Also, focus on GRE prep, and try not to worry about the results. GRE has a huge test prep industry, so it won't be too difficult to find assistance with your GRE preparation.
Finally, when choosing the recipients, make sure to pick the four graduate programs that are your top choices, and you're all set.
---
References:
https://www.ets.org/gre/revised_general/scores/send/
https://www.ets.org/gre/revised_general/scores/how