In 2017, Harvard Law School officially announced that it would accept the GRE or LSAT for incoming students. Now, there are over 60 schools that accept GRE scores. So now that the LSAT is no longer the only option, which test will help you get into your schools of choice?
Should you take the GRE or the LSAT? Your law school application can shine with a good GRE score or LSAT score.
Which Should You Take - GRE vs LSAT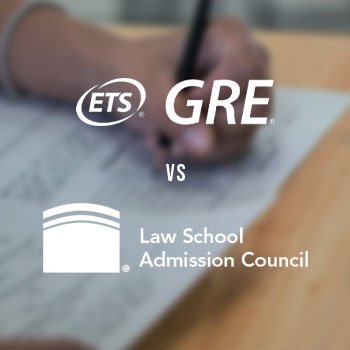 If you are considering any of the law schools, then you've realized that you'll need to take an entrance exam, either the GRE or the LSAT. But the question now is which one? These tests have their own set of pros and cons that should be taken into account.
Let's take a look at some of the reasons you might choose one test over the other. GRE vs LSAT - which fits you the best?
Top LSAT Features
You don't have to worry because all law schools accept the LSAT.
Most law schools list their average LSAT scores on their website.
LSAT has one total score giving you a concrete result.
The LSAT is the original test for law schools.
The LSAT score directly correlates with success in any university school of law.
Top GRE Features
The GRE is available year-round making it convenient for scheduling.
The GRE verbal section focuses more on vocabulary.
The GRE is a great test for students who excel in quantitative thinking.
Canceling a bad GRE score doesn't show up on a student's record.
The GRE score can be used to apply to any graduate program.
Recommended Article: Do Law Schools Accept the GRE?
What's Special About the LSAT Test
LSAT stands for Law School Admission Test, whose main purpose is to test the skills necessary for success in any number of law schools. It was a test created and run by the Law School Admission Council to weed out poor candidates. An LSAT score has the possibility of getting you into any of the major law schools, granted you score well enough.
A competitive university school of law will require an LSAT score of at least 160. In the law school rankings, even the most average school has applicants with that type of score.
To have a good grasp on the LSAT test, you'll need to understand each section and the questions they will ask. This particular test covers the following areas: logical reasoning, reading comprehension, analytical reasoning, and a writing sample.
Logical Reasoning
This portion of LSAT is broken into two sections with roughly 25 questions in each. An hour of the test is devoted to this section. These questions test your ability to determine the main point of an argument, apply logic to various concepts, find important information in dense text, and analyze different arguments.
Reading Comprehension
Reading comprehension is one section of roughly 27 questions that lasts one-half hour. You'll be asked to read four different passages and draw inferences from the text. The text will be quite dense and scholarly, making it that much harder to determine the main idea and find the important information.
Analytical Reasoning
This portion of the assessment is sometimes known as logic games. In a half-hour, you'll be asked to correctly understand the effects a rule has on a decision and an outcome. These logic games test one's ability to draw conclusions, analyze situations, and apply logic to complex situations.
Writing Sample
In this section, the test-taker is given 35 minutes to form an argument based on given facts that uses written English to properly and eloquently defend a position and express an idea. At any one of the law schools, you'll be writing briefs and essays constantly through your studies.
What's Special About the GRE test
The GRE is a general assessment that features questions that reflect typical human thinking. GRE scores will get you possible entrance into most graduate programs and some law schools. It will measure your verbal reasoning, quantitative reasoning, critical thinking, and analytical writing skills.
However, these are the same skills that have been honed in school and daily life.
Let's take a look at three test sections: Analytical Writing, Verbal Reasoning, and Quantitative Reasoning.
GRE Verbal Reasoning
This portion of the GRE measures your ability to analyze and draw conclusions. Are you able to read a text and reason out the missing information or identify the author's perspective? You'll need a good grasp of word meaning, both literal and figurative. How do sentences relate to one another, and what's a major or minor point? This particular section tests your reading comprehension skills.
Quantitative Section
The quantitative reasoning portion will assess one's ability to understand and interpret quantitative information. Can you take numbers and put them in a logical sequence? You'll need to have a strong understanding of basic arithmetic, algebra, geometry, and data analysis to perform well here. A calculator is allowed and provided through the computer program.
Related Article: Can You Use a Calculator on the GRE?
Writing Section
This section measures a prospective student's ability to clearly articulate an otherwise complex idea clearly and effectively. Are you able to take the claim, examine it and create a reasonable, well-thought-out response?
The key to writing this essay is remaining focused and having a coherent argument from the opening line to the conclusion. This is not an open-ended section, so you must be able to respond to a specific prompted question or claim.
Check out this post to learn how long should a GRE essay be.
"The greatest challenges are the inevitable pressures of ease, accommodation, and complacency."

- Robert J. Zimmer, President of the University of Chicago.
Main Differences between LSAT & GRE
When you apply to law school, it's important that you make the right testing decision. Originally you took the GRE for graduate school and the LSAT for a college of law, but things have changed. After discussing the two tests, let's now compare the most stand-out differences between them.
The Difference in their Verbal/Reading Sections
One distinct difference between the LSAT and the GRE is that the LSAT includes logic games. These questions are trickier than the transitional reading standardized questions found on the GRE. A logic game looks like something out of a puzzle book that involves a situation with rules that asks you to respond to certain hypothetical situations.
Many students find this to be the hardest part of the test. At a university school of law, you'll be constantly asked to perform these types of logic feats.
The Difference in their Quantitative Section
After reviewing both test types, you might have noticed that the GRE has a math section, while the LSAT does not. The reason for this is that the GRE is an entrance exam used for any type of graduate study.
You'll find that engineers are taking this same test. On the other side, the LSAT is only for students looking to go to a university school of law. Not a math fan? Take the LSAT. Law schools don't put as high of a priority on this area.
More Differences
While the questions you might face are the biggest differences between the LSAT and the GRE, here are just a few more differences between the LSAT and the GRE.
The GRE is a more general test compared to the LSAT, which was created with law school applicants in mind. You'll be asked about math and vocabulary on the GRE.
There is a difference between how many times you can take the GRE, versus the LSAT.
The LSAT has set questions, while the GRE is adaptive and will change questions based on how you are doing.
LSAT scores and writing samples are used in a law school score report that is sent out by the Law School Admission Council.
Law schools have a longer relationship with the LSAT.
Recommended Article: How Long is a GRE Score Good For?
Prepping for the Test: GRE vs LSAT
Whether you've decided to take the LSAT or the GRE, you are going to need to spend some time studying. Each year 100,000 potential law school students from around the world take the LSAT [1]. With the competitive admissions process and everyone's desire to one day be certified by the American Bar Association, you'll need to put in the study time.
As law schools accept the GRE, the law school application process is becoming even more competitive. Whether you take the GRE or LSAT, good test takers have a strategy.
Stick to a Schedule
One key to a successful LSAT or GRE score is by sticking to a schedule and putting in that effort over a couple of months of study. You can't cram for a test that is solely based on skill.
It is important that you practice, practice, practice. To reach your desired GRE scores on the quantitative section or LSAT score on the logical reasoning portion, you'll need to take at least two to three months to prepare.
Related Articles:
Help Yourself
While it might seem fun or practical to study with other potential law students or friends looking into graduate schools, you need to make time to study on your own. Given how the questions are created, you might find the LSAT writing section challenging while your friends don't.
It will be more beneficial to learn what causes you trouble and focusing your time on those areas and questions. To improve that LSAT score, you need to be selfish and focus on your own trouble areas. Because law schools are so competitive, you don't have time to waste on unhelpful study practices.
Recommended Articles:
Analyze, Analyze, Analyze
Don't spend your whole time practicing questions, but rather spend time analyzing the questions you've gotten wrong. Go back and look at the scores you got and see where you made mistakes.
To pass the exam from the American Bar Association, you'll need to have outstanding analyzing skills. Take the GRE and LSAT practice test multiple times and spend time reviewing what you did right and wrong. Analyzing will help you increase your GRE scores and your LSAT score.
Law Schools That Accept the GRE
While we have analyzed the differences between the GRE and the LSAT, it's important to note which law schools accept scores from each test. Below are just a few of the schools in the United States of America.
All of these are law schools that accept an LSAT score and a GRE score. Which law school, university, or program do you want to study at?
Columbia Law School
Cornell Law School
University Law Center, Harvard Law School
University of Arizona Law
Northwestern University Pritzker
John Marshall Law School
Duke University Law
University of Chicago
Brooklyn Law School
Notre Dame Law School
University of Southern California -- Los Angeles School of Law
University Davis School of Law
University of Buffalo School of Law
University of Maryland Francis King Carey School of Law
University of Southern California Gould School of Law
University of Miami School of Law
Conclusion
At the end of the day, the most important question to ask yourself is which of these tests will give me the best result for my target schools. If you like math, take the GRE. If you are someone with strong verbal skills, take the LSAT. Schools like the University of Arizona College of Law look out for high LSAT scores.
Your law school admissions don't hang solely on picking the right test but on the entirety of your college of law application. You gain points with the college of law admissions department by being a well-rounded applicant with a myriad of accomplishments to list and a good LSAT or GRE score. You are more than your LSAT and GRE test scores and any college of law can see that.
Reference:
https://www.lsac.org/about