I remember when I was a child, I always wanted to become a doctor. Years passed, and I was ready for that significant step – to enter the university I wanted and make my dream come true.
I've heard many things about the MCAT. Indeed, it was challenging but was it really that hard? Find below what you can do to score well on the MCAT and become a proud student.
What is MCAT?
MCAT stands for a medical school admission test, developed, and operated by the Association of American Medical Colleges AAMC.
It is a standardized test with multi-choice questions designed to help school admissions services assess student knowledge, problem-solving, and critical thinking skills.
This test serves as a predictor of your success with the admissions officers at the faculty you want to enroll in.
It also helps them assess your knowledge of biological, behavioral, and social science concepts and scientific principles before studying medicine (1).
MCAT is required for admission to most med schools, and it assesses knowledge of physical and biological sciences, verbal reasoning, and writing skills. Almost all American medical schools and many Canadian schools require you to present MCAT exam results.
Recommended Article: What Is The MCAT Exam?
How Hard is the MCAT for Students?
If you want to enter into med school, here are 3 points that can help you understand what makes the MCAT hard.
Taking the MCAT exam lasts longer than your usual test. Students think that the main reason MCAT is hard is because they will need to spend quite some time on the test day.
The exam time is 7.5 hours, much longer than similar standardized tests students are taking for entering colleges. It also contains 230 questions, covering various subjects, which makes it even more challenging.
It contains questions from various subjects.
The MCAT is hard because it is a multidisciplinary test. It covers various subjects, which makes it difficult to prepare for.
When taking the exam, on the test day, expect to see sections from the science courses like:
Biology
Biochemistry
General chemistry
MCAT is different from other tests because of the number of subjects it contains. To have a good score, you will have to master all of them. When we say master, it doesn't mean memorizing all answers.
MCAT requires students to understand subjects and apply the knowledge from each of them to situational sections. MCAT also values your pre-med critical analysis and reasoning skills.
Its structure makes it challenging.
Students are struggling to finish this test as it contains a lot of questions to be answered within a short period.
Another challenge is the structure of the test. MCAT breaks down exam content in passages, 10 in total with 4-7 questions. Each of the science sections has 15 stand-alone queries, and there are 9 passages in the CARS sections.
Students who took the MCAT said that answering sections question by question can be difficult, so studying the courses well is essential. The most challenging sections are the chemistry section, physiology section, and CARS section.
"There is no substitute for hard work."

- Thomas Edison, inventor
5 Tips To Score Well on the MCAT
To become a medical student, you need to have a good MCAT score. Preparing for MCAT tests takes time and dedication. You also have to balance your preparation with an already busy schedule.
Check out the tips that might help you understand the test's complexity and give you insights on what things to focus on to be one step closer to your desired college.
1. Start with MCAT prep on time.
It is usually advisable to do the standardized test one year before starting college. Because there are elements that make the MCAT hard, consider that you may need to do it again. Calculate how long it will take you to prepare for the second attempt. For example, if you plan to take summer classes that can help you prepare for the MCAT, then it is best to do the test at the end of summer.
You can take this standardized test 3 times a year, 4 times in two years, and 7 times in your lifetime. All faculties can see each result from your MCAT exams. Therefore, you should only register for the test when you are sure you are ready.
2. Get some help.
The MCAT is considered a challenging test because it contains questions from the initial classes of biology, physics, physiology, and sociology, organic chemistry, and biochemistry. To get into medical school and score on the MCAT well, you have to study hard and practice your critical thinking skills.
Due to different university curriculum, you need to know the test areas before deciding on the additional classes you want to enroll in. That way, you will be up to date with the necessary information for the MCAT, and you will not pay for something that will not benefit you.
Also, ask the university about the type of help they offer for the test. Mentors at the university can help you choose the classes that will best prepare you for the MCAT.
3. Find the best MCAT study books and materials.
Do research. To study for the MCAT, find a list of the best MCAT practice tests on the market, based on quality, price, and extra features. Only the best preparation materials will give you a real test feeling. Many students make a mistake and study only easy materials because they do not want to waste time and learn difficult things.
4. Find free online materials.
MCAT preparation takes a lot of hard work, but it does not have to be hard on your budget. Find preparation materials for which you won't need to break the bank, such as video tutorials, answer explanations, and technique acquisition tests.
5. Take a sample test.
You should take two types of practice exams before you schedule your exam: the diagnostic test and the mock-up test.
Take an initial diagnostic test before you start studying. It will help you to understand where you are in terms of scores. Also, it will teach you how to prepare for the long hours.
The MCAT sample exam test serves as a great exercise in preparation for taking the actual test. It looks like a real exam, except that you cannot submit the sample test results to the university. It lasts about 7.5 hours, just like a real test.
By using a sample exam test, you can test your knowledge in advance and check whether you are ready for the actual exam or not. You can even see the result and how many points you have gathered, giving you a realistic picture of how well you will do in the real test.
Related Article: Free MCAT Practice Questions
When To Take The MCAT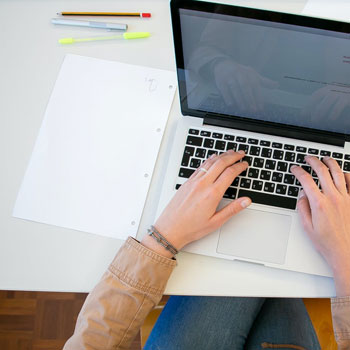 One of the most important factors in selecting an MCAT test date is your curriculum. Before choosing a date, think about your MCAT study schedule. Consider the time you will need to study and adequately prepare for every question for the exam (usually between three and six months).
Some students choose to take the exam in January because winter offers a significant amount of free time for test preparation. Also, by taking the test in January, you can free up the rest of the spring semester to work on the rest of your med school application.
Another consideration when choosing an MCAT date is the chronological order of application. Ideally, it would be best to take the MCAT early enough so that your score is available as soon as the medical schools open (2).
The medical deadlines for classrooms range from October to December, but most med schools have rolling entrances, so it is in your best interest to implement them as soon as possible.
AAMC is releasing the first round of school applications in late June, so if you want your application to be first reviewed, plan to do the MCAT in May at the latest.
Recommended Articles:
FAQs
What is the price of the MCAT?
The cost of the MCAT is around $300 for test-takers. This price includes the costs of exams as well as sending the obtained results to universities. Additional charges can affect the price, such as postponing exams, changing reservations, and testing at centers to enter into medical school.
The MCAT score consists of 5 parts. Each part has its result, as well as the combined result of all 4 sections. Each of the 4 sections has its score that ranges between 118 - 132 points. The results of all sections are added together to make one result. The total score is between 472-528. If you need to get 510 points, it is 80 percentile of the score, while if you get 528, points it is 100th percentile.
Final Thoughts:
The question "How hard is the MCAT?" is the first thing students ask before preparing for the test. Will I finish on time if I answer question by question? Will sections like CARS make it a hard test? As a student, you have one goal: finding solutions and scoring the best you can.
The key here is to study smart—answer challenging questions and organize your time. Get the best materials you can find for studying. It's all about mind over matter. If you believe it's a hard test, then it will be. We recommend you think positively to manage your examination well.
---
References:
https://www.aamc.org/news-insights/how-well-does-mcat-exam-predict-success-medical-school
https://www.unr.edu/nevada-today/news/2017/best-time-of-day-to-study